The Ultimate Endurance Test and Its Parallels to Investing
On June 3rd, triathletes from around the globe will descend on San Francisco for one chance to attempt what used to be considered impossible – ESCAPE from Alcatraz – and I will be one of them. The Escape from Alcatraz Triathlon attracts World Champions, Olympic Medalists and amateur triathletes (that's me) from 50 states and over 40 countries. We will put our endurance to the ultimate test as we take on San Francisco's legendary Bay, steep hills, and rugged terrain.
The 2018 Escape from Alcatraz Triathlon features a 1.5-mile swim from Alcatraz Island to the shores of the St. Francis Yacht Club (where water temps are 55-60 degrees), an 18-mile bike ride, and a demanding 8-mile run through the trails of the Golden Gate Recreational Area. Set against the natural beauty of San Francisco, this thrilling triathlon is a virtual postcard of the City by the Bay. Click HERE to read more.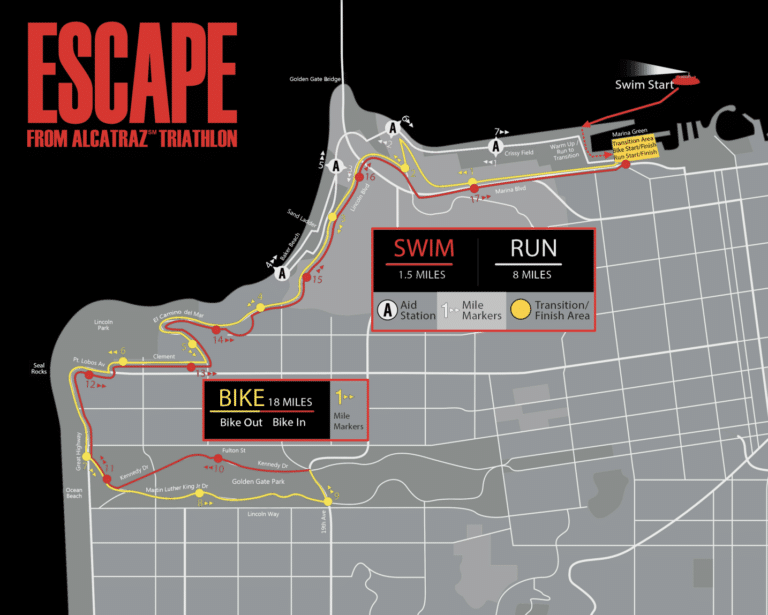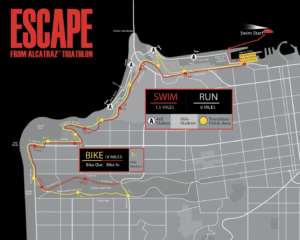 Competing in this triathlon has been a long-time, bucket-list item for me – a dream that began more than 15 years ago. When I first learned about this race, the sign-up process was very competitive, with only 2000 slots available, which would disappear 60 seconds after the online form opened. Alas, my sign-up speed wasn't up to par and I haven't had the opportunity to compete…until this year.
In October 2017, I received an email to sign up for a random drawing to be entered in the race. Thinking to myself, "There is no way that I'll be chosen, so why not?" I entered the drawing. Fast forward to November and I received the email "We regret to inform you…" I hadn't been selected. Not completely disappointed, I realized had I been selected, a difficult training regimen would have awaited me. "Maybe next time," I thought.
Then, 2 weeks later, I received another email. "You have been selected from the random drawing to participate in the 2018 Escape from Alcatraz. You have two weeks to accept."After discussing the opportunity with my wife, Ann Marie, we decided to pull the trigger and I signed up. Game on. For me, this race is a culmination of a long-time goal, an accomplishment that I'll look back on with a sense of pride and accomplishment if the sharks and sea lions don't get me!
Since December, I have been training for this race, slowly building up my endurance for the swim, bike, and run. While training, I've had much time to think about what this race means for me personally, but also the parallels to what I do with AP Wealth Management and our philosophy for investing.
"Just like a triathlon, building wealth requires Discipline, Consistency, and a Plan." – Gene McManus
The older we get, the more important it is not to "over do it." Case in Point: The day after signing up, I got up early, went to the pool, and attempted a long swim….and, I almost injured myself. You see, I hadn't built up my swimming strength and endurance yet. After this initial mishap, I decided to dial it back, and build up my miles by training smarter, not harder.
The parallel to our investment philosophy here at AP Wealth Management is strong – we have proven time and again that it's important to maintain a disciplined and consistent approach to investing.
Since then, I have been focused on improving my technique, increasing my distance, and gaining insight from experienced participants. At AP Wealth management, we constantly monitor our security positions, hold weekly team reviews of portfolios, and evaluate our investment policy.
Similar to discipline and consistency, planning is paramount – both for my race and for AP Wealth Management. I heard a wise man once say,
"Goals are good, but your commitment must be greater than your goals." -Dabo Swinney
I could have signed up for this race without a plan or commitment, but if I had done that…I think we can all guess what may have happened.
Similarly, in investment strategy, it's important to know your financial goals, make a plan to achieve them, then commit to taking the steps that are necessary. By making a plan and committing to it, we avoid getting hurt, and we have more fun in the process!
Our clients here at AP Wealth Management expect nothing less than this same disciplined approach as we help them to attain their financial objectives, build their wealth, and protect their legacy.
So, as I look ahead to June 3rd, I am committing to a plan of discipline and consistency. And, you my friends, can help hold me accountable. When Ann Marie and I return from San Francisco, I will have accomplished a long-time goal because I made a plan, then stuck to it. I hope I'm not a snack for the wildlife. Geronimo!